Mobility is changing. Because of this, Europ Assistance has decided to focus on electric vehicles also for roadside assistance. The company, in fact, has made it known that it has included i first 100% electric models. Specifically, it's about vehicles used for dépannage that is, able to intervene and repair, where possible, any vehicle directly on site.
Thanks to the vehicles and staff dedicated to dépannage, the customer receives a service that allows him to avoid the tow truck and therefore the towing to the workshop and is put in a position to leave immediately.
ROME AND MILAN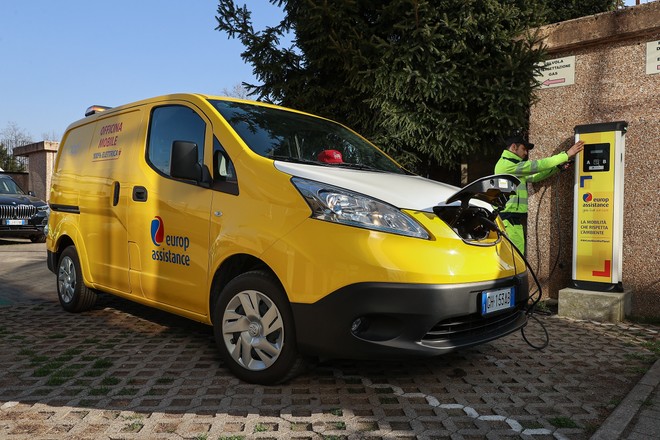 Europ Assistance announces that it has already put these new 100% electric vehicles into service. Specifically, 2 operate in Milan and 2 in Rome. Since mid-January they have already carried out over 300 interventions. The company says that these vehicles can carry out up to 70 interventions a day, covering about 60% of the interventions of the total dépannage in the cities where they are present in one year. According to Europ Assistance estimates, thanks to the decision to focus on these 100% electric vehicles, each year we should save about 34 tons of CO2 considering the average consumption of traditional diesel-powered emergency vehicles.
The focus on reducing polluting emissions has led the company to also review the composition of the fleet of replacement cars, reserved for customers in the event of their vehicle being stopped. To date, out of a total of around 900 vehicles, around 15% are electric and nearly 10% are hybrid. Over the course of 2022, the share of electric and hybrid cars will rise further. Marco BaldoliChief Auto Officer of Europ Assistance Italia, commented:
The commitment to sustainable development will be a priority this year and we are convinced that change starts with each of us. The goal is to extend the project to the main Italian cities. With this initiative we are taking a further important step towards environmentally friendly mobility, because not only do we provide specific services for electric vehicles, but our own emergency vehicles become green.