There is still a lot of missing from the autumn presentation of the new iPhone 14, but in the meantime we are getting a clearer idea of ​​what the next iPhone by will be. And today, with the appearance of the iPhone 14 Pro CAD fileconfirmations and denials arrive.
The indiscretions that have occurred in recent months, in fact, converge on some points. And so we know that the notch (or the notch, if you prefer) of the Face ID introduced with iPhone X and become a distinctive element of Apple's smartphones it really seems destined to disappear, but not on all models: on the iPhone 14 and 14 Max (the latter will replace the Mini with reversed roles) in fact the notch will remain where it has always been, while on iPhone 14 Pro and Pro Max it will be replaced by a double holeas if to outline a horizontal "i".
REVOLUTION IN FRONT, BUT DOESN'T CHANGE BEHIND
The iPhone 14 Pro CAD renders shared by 91Mobiles confirm this reconstruction: no notch, and in its place a pill hole flanked by another circular one, more to the right, to house the selfie cam and the Face ID sensors. Another interesting confirmation concerns the size of the displaywhich should remain unchanged compared to the iPhone 13 Pro, with a diagonal therefore of 6.1 in. And apparently the frames, which traditionally remain symmetrical, will be further thinned (and this should also be exclusive to the Pro models).
But compared to the image of the iPhone 14 Pro with which we had become familiar so far, referring to the renderings that anticipated its lines, there is also a difference that immediately catches the eye. The block of the three rear cameras will in fact not be flush with the body, but included in a protruding square tile, just as we have seen so far from the iPhone 11 onwards..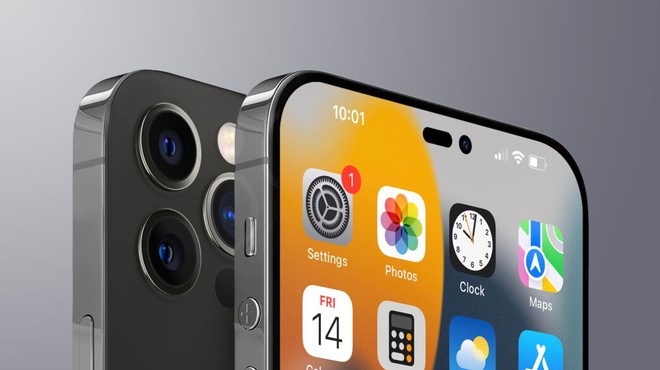 The presence of a slot for the physical SIM then definitively turns off the rumors that hypothesized the arrival of an iPhone compatible only with virtual SIMs at least for this generation.
For the rest, in addition to the great revolution on the front with the disappearance of the notch and the further optimized frames, the design of the iPhone 14 Pro despite being the most revolutionary since the time of the iPhone X does not reserve any further surprises. The edges remain the flat ones introduced by the iPhone 12, and at the bottom also in this round there will not be a USB-C port for charging, but the usual Lightning socket.