Mercedes is preparing for the debut of the SUV version of the EQS. This new electric model, the third based on the EVA platform specifically for battery cars, will be officially presented on April 19th. The new SUV will then be built at the Tuscaloosa, Alabama plant. Subsequently, the SUV version of the EQE will also be produced within this site and will be presented by the end of 2022.
UP TO 7 SEATS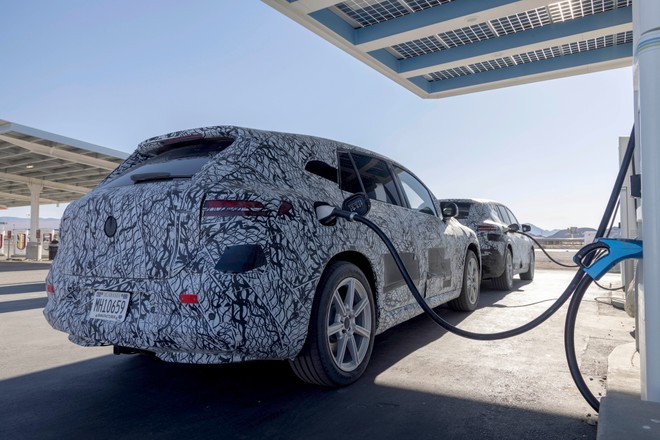 Announcing the debut date of the new electric SUV, the German carmaker shared a series of images of the prototype. The car still appears disguised but we have the opportunity, after several spy photos, to be able to further observe some details of the look of the new electric model. Although Mercedes did not want to anticipate any technical specifications of the powertrain, the manufacturer has provided some initial information on the interiorsharing several images of the cockpit.
At first glance, the interior does not look very different from that of the EQS sedan. The bridge is dominated by the MBUX Hyperscreen infotainment system (optional) which will allow users to access multiple digital services. Interestingly, the EQS SUV will be able to have the third row of seats. This means that up to 7 passengers can be accommodated on board. A model, therefore, which according to the manufacturer will offer the luxury and technology of the sedan version with the practicality and space of an SUV.
As previously mentioned, nothing has been said about the engines but probably will use the same units seen inside the EQS sedan. Rumor has it that they may have slightly more horsepower to compensate for the SUV model's weight gain. However, we also already know that a high-performance version from AMG should arrive at a later date. For those looking for even more luxury, we remind you that the Maybach version that we have already had the opportunity to see, as a concept car, at the 2021 Munich Motor Show will debut later.
No information on possible prices. Surely the EQS SUV will cost more than the sedan which, in Italy, starts at € 117,422.30. At this point, all that remains is to wait about a month to discover all the secrets of this new electric model from the German car manufacturer.