"Russia will emerge stronger from the sanctions". This is the warning of Vladimir Putin who has approved in the past few hours a plan to nationalize foreign-owned firms who have decided to leave Russia following the military aggression against Ukraine.
With this plan, which will be discussed in the next few hours in the Russian parliament, Putin wants to try to remedy the huge job losses and consequent economic problems that this exodus is starting to cause. According to Putin, Russia must "introduce external management" on departing companies "and then transfer these businesses to those who want to work".
FOREIGN STORES CLOSE AND THE RUBLE COLLAPSES
The list of foreign companies that are suspending their activities or temporarily closing their stores in Russia is getting bigger and bigger. The names include both the largest multinational technologies, including Apple, Microsoft, Sony, Nintendo and Amazonboth the most important fashion brands as well as large companies that have several points of sale in the area such as McDonald's and Ikea.
The trade ties Russia has with the West took 30 years to build but only a week to crumble and it won't be easy to rebuild in a short time. The long queues in front of the shops that are about to close are only the first symptoms of a bad mood that will only continue to intensify more and more in the coming weeks. All, of course, also powered by a growing economic hardship due to the important, unprecedented Western sanctions that are hitting Russia.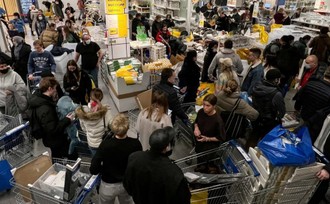 In fact, in the coming weeks, Russia will begin to run out of all goods imported from abroad, including components and spare parts for aircraft and other means of transport. Furthermore, the considerable weakening of the ruble, which has lost about 40% of its value since the start of the conflict, makes any import much more expensive. The effects of all this will be "devastating", but not immediate.
From the United States, however, a response has already arrived to Russia's intentions to nationalize the assets:
"Any decision to seize the assets of these companies will ultimately only result in even greater economic pain for Russia. These measures can also lead to legal claims by companies whose property is seized."
WHAT IS NATIONALIZATION
Nationalization would allow the government to apply for a court order for impose external management to all factories, shops and other facilities of these companies who have decided to stop their activities in Russia in order to "prevent bankruptcy and keep jobs".
This would be an eternal management with a quarterly duration which would be followed by the auctioning of companies. This nationalization would affect all companies in which there is a foreign participation of more than 25% by "hostile nations". For their part, companies will only be able to interrupt the process by resuming activities within 5 days of the court order or by deciding to sell their assets.
NOT ONLY NATIONALIZATION
The proposal to nationalize foreign companies that have decided to leave the country is one of the many that Russia has launched or approved in recent days in response to Western sanctions. With a government decree issued in recent days, Putin wants to give Russian entities a chance to violate Western patents in order to be able to continue producing "devices and technologies" that will disappear from the Russian market.
Referring to a law that provides for the use of any intellectual property without the consent of the owner in an emergency, to "guarantee the defense and security of the state", Russia is also considering the possibility of legalizing computer piracy to obtain software. and access to services.
FOLLOW US LIVE