Yamaha announced the arrival on the European market and also in the Italian one of the new one Yamaha Neo'sa small electric scooter designed specifically for the urban mobility. A model, therefore, equivalent to the classic 50 cc scooter. This new scooter will be available from the Yamaha dealer network at price of 3,199 euros ex-dealer starting from June 2022.
REMOVABLE BATTERY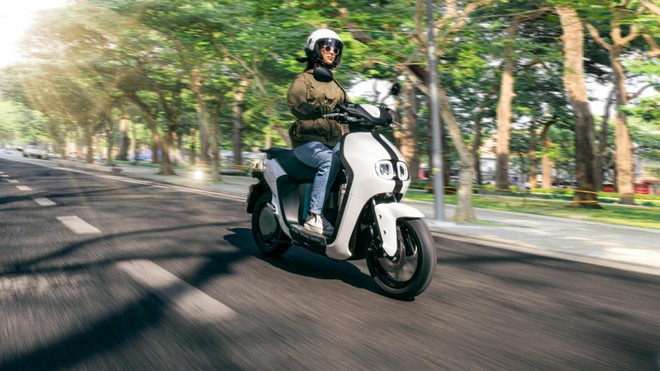 The dimensions are compact to facilitate city driving. The scooter is characterized by the presence of rubber moldings which also help to protect it from minor bumps and scratches. The new Yamaha Neo's will be available in Milky White and Midnight Black colors.
The scooter can also rely on a saddle height of 795 mm and on a spacious flat platform. The manufacturer says that the placement of the battery under the saddle rather than under the footboard meant that the new NEO's could offer ample space, allowing riders of large or small build to adopt the position they prefer to ride. The NEO's saddle compartment (27 liters) can house a jet helmet, even with the optional second battery. The rims are 13 inches.
Yamaha Neo's offers a LCD instrument panel which in addition to the rankings, information such as speed and range, shows the driving mode indicators and icons for connection with the smartphone app, calls and email notifications. In fact, the manufacturer puts a available the MyRide app which provides access to technical and operating information such as speed, acceleration, vehicle battery status, route monitoring and more.
The electric scooter features a Smart Key keyless ignition system. Speaking of the powertrain, we have a 2.5 kW unit placed directly in the rear hub. To power it, a 1 kWh removable battery weighing 8 kg. Yamaha declares a range of 37 km. As previously mentioned, it is possible to equip the scooter with a second battery that allows you to extend the distance to about 68 km.
The battery can be recharged either when it is installed in the vehicle or after it has been removed to connect it to a power outlet. NEO's comes with a portable charger designed to plug into a household outlet. A full charge takes approximately 8 hours. The electric scooter offers two riding modes: STD and ECO.
STD mode offers the maximum power output of 2.06 kW at 40 km / h. The ECO mode aims to reduce battery consumption and is suitable for unexpected longer journeys, to reach the maximum possible distance. In ECO mode, the maximum power is 1.58 kW at 30 km / h and the maximum speed is limited to 35 km / h, while the power is reduced throughout the speed range to extend the battery life for a ride approximately 38.5 km with a fully charged battery.